Servings Per Container:
This means how many servings are in the entire container. So you must look at the serving size.
The serving size for this product is 2/3 cup. There are eight 2/3 cup servings in this container.
Each 2/3 cup serving contains 230 calories.
The remainder of the nutrition information is regarding that 2/3 cup portion.
Remember, if you have more than one serving, you have to double, triple, etc. these amounts.
Fat Content: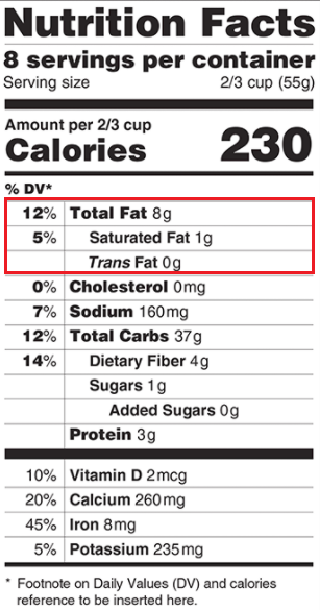 Saturated fat and Trans fats can increase cholesterol levels.
Trans fats are particularly bad because they can reduce good cholesterol
Avoid trans fats at all costs. This number should always be zero.
Saturated fats are found commonly in food items. Aim for less than 7%.
Other fats you will find on food labels include poly/monounsaturated fats.
Unsaturated fats are healthy fats and need not be limited.
Sodium (salt):
It is recommended to keep sodium intake within 2,300 mg per day.
For an entire meal, 600 mg or less is recommended.
Too much sodium can increase blood pressure.
The food item listed contains 160 mg per 2/3 cup.
However the entire package (8 servings) contains 160 mg x 8 = 1,280 mg.
Total Carbs:
Total Carbs include: Fiber + Sugar + Added Sugar + Sugar Alcohols (not shown).
Recommended daily intake of fiber is 25 grams (women) and 38 grams (men).
Tip: healthy food options typically contain more fiber than sugar.
Some foods contain sugars naturally which is OK (grains, fruit, dairy).
Limit added sugars (as close to zero as possible).
Protein:
Foods containing higher amounts of protein keep you full for longer.
Healthy protein options: fish, turkey, chicken, eggs, and tofu.
Whole grain and dairy food options are also good sources of protein.
When you read a nutrition label, what do you focus on?
Leave us a comment! Help us help others.